3443 – Perm / Peel Foam Pads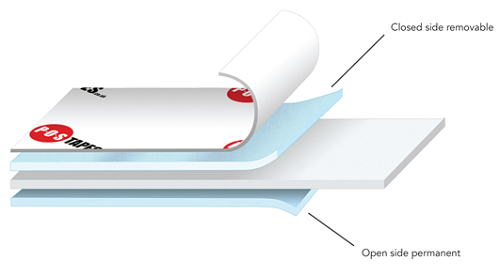 ---
Removable adhesive on the closed side
---
Utilised on most structured or textured surfaces
---
Die-cut to any shape
---
Our 3443 is a unique foam pad which features a removable adhesive on the closed side and a permanent adhesive on the open side, creating a Perm/Peel product ideal for many temporary POS applications.
The Removable adhesive is a modified acrylic which provides a good level of tack whilst providing an initial responsibility of long-term clean peel removability after extended periods in situ.
The Permanent adhesive is again modified acrylic, designed to provide a good balance of adhesion and cohesion which are critical in applications if used on Poster Bills or POS.
Due to its high deposition, it can be utilised on most structured or textured surfaces.
The 3443 can be die-cut to any shape and we can also provide on roll format with a required meterage to suit your requirement.
POSPERMPEELPADS24241
White
24mm x 24mm x 1mm / 20 Pads per sheet