POS Foam Pad Rolls
---
Large quantity held in stock
---
Competitive pricing
---
High grade foam and adhesive
---
General Purpose Foam Pad Rolls
All our Foam Pads on a roll are shrink wrapped onto a cardboard backing sheet which ensures the product stays in perfect format at all times through production, storage, dispatch and shipping.
We offer sizes of 12×12, 12×25, 25×25 in thickness of 1mm, 2mm, 3mm and 4.3mm, with 1000, 2000, 3000 or 4000 pcs per roll.
Suitable for indoor use ( short term outdoor), so ideal all lightweight POS and Print applications.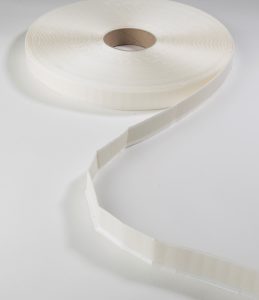 POSFOAMPADS1262
White
12mm x 6mm x 2mm / 3000 pads per roll & 25 rolls per carton
POSFOAMPADS12121
White
12mm x 12mm x 1mm / 4000 pads per roll & 25 rolls per carton
POSFOAMPADS25121
White
25mm x 12mm x 1mm / 4000 pads per roll & 12 rolls per carton
POSFOAMPADS25251
White
25mm x 25mm x 2mm / 2000 pads per roll & 12 rolls per carton
POSFOAMPADS12122
White
12mm x 12mm x 2mm / 3000 pads per roll & 25 rolls per carton
POSFOAMPADS25122
White
25mm x 12mm x 2mm / 300 pads per roll & 12 rolls per carton
POSFOAMPADS25252
White
25mm x 25mm x 2mm / 1500 pads per roll & 12 rolls per carton
POSFOAMPADS12123
White
12mm x 12mm x 3mm / 2000 pads per roll & 25 rolls per carton
POSFOAMPADS25123
White
25mm x 12mm x 3mm / 2000 pads per roll & 12 rolls per carton
POSFOAMPADS25253
White
25mm x 25mm x 3mm / 1000 pads per roll & 25 rolls per carton
POSFOAMPADS12124.3
White
12mm x 12mm x 4.3mm / 1000 pads per roll & 25 rolls per carton
POSFOAMPADS181DIA
White
18mm diameter x 1mm / 5000 pads per roll & 12 rolls per carton
POSFOAMPADS221DIA
White
22mm diameter x 1mm / 5000 pads per roll & 12 rolls per carton