POS Foam Pad Rolls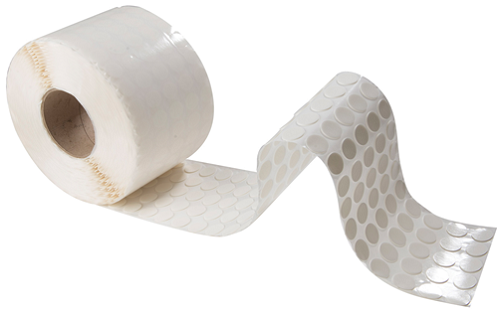 General Purpose Foam Pad Rolls
All our Foam Pads on a roll are shrink wrapped onto a cardboard backing sheet which ensures the product stays in perfect format at all times through production, storage, dispatch and shipping.
A range of sizes is available and we also offer it in 18mm, 22mm, 24mm & 36mm diameter with a pull tab for ease of use in application.
Suitable for indoor use ( short term outdoor) and available in white and in a number of sizes to suit your requirement.
POSFOAMPADS1262
White
12mm x 6mm x 2mm / 3000 pads per roll & 25 rolls per carton
POSFOAMPADS12121
White
12mm x 12mm x 1mm / 4000 pads per roll & 25 rolls per carton
POSFOAMPADS25121
White
25mm x 12mm x 1mm / 4000 pads per roll & 12 rolls per carton
POSFOAMPADS25251
White
25mm x 25mm x 2mm / 2000 pads per roll & 12 rolls per carton
POSFOAMPADS12122
White
12mm x 12mm x 2mm / 3000 pads per roll & 25 rolls per carton
POSFOAMPADS25122
White
25mm x 12mm x 2mm / 300 pads per roll & 12 rolls per carton
POSFOAMPADS25252
White
25mm x 25mm x 2mm / 1500 pads per roll & 12 rolls per carton
POSFOAMPADS12123
White
12mm x 12mm x 3mm / 2000 pads per roll & 25 rolls per carton
POSFOAMPADS25123
White
25mm x 12mm x 3mm / 2000 pads per roll & 12 rolls per carton
POSFOAMPADS25253
White
25mm x 25mm x 3mm / 1000 pads per roll & 25 rolls per carton
POSFOAMPADS12124.3
White
12mm x 12mm x 4.3mm / 1000 pads per roll & 25 rolls per carton
POSFOAMPADS181DIA
White
18mm diameter x 1mm / 5000 pads per roll & 12 rolls per carton
POSFOAMPADS221DIA
White
22mm diameter x 1mm / 5000 pads per roll & 12 rolls per carton
POSFOAMPADS241DIA
White
24mm diameter x 1mm / 5000 pads per roll & 12 rolls per carton
POSFOAMPADS361DIA
White
36mm diameter x 1mm / 5000 pads per roll & 12 rolls per carton